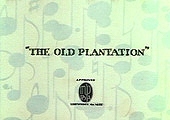 The Old Plantation is a MGM Happy Harmonies cartoon, released in 1935.
Several toys (including lots of stereotyped black toys) try and help their plantation owner by holding a toy horse race so Simon Legree can't foreclose.
According to Michael Barrier's book "Hollywood Cartoons," this was the first of the Happy Harmonies to use three-color Technicolor (Disney's lock on the process ended on August 31, 1935).
First MGM cartoon to use "Tanner" the Lion. This lion would be used on all MGM cartoons until 1958.
This cartoon is rarely shown on American television due to potentially offensive African-American characterizations.