Incomplete article
This article is a stub. You can help The Happy Harmonies Wiki by expanding it.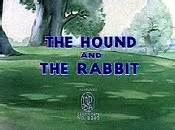 The Hound and the Rabbit is a 1937 Happy Harmonies cartoon.
A round little boy bunny who is a member of a football team befriends a lost, but irrepressibly chummy, angular hunting dachshund and names him "Sniffy". He is enlisted into the rabbits' football game. A predatory fox is out "fishing" for rabbits. He tricks Sniffy away from the field and uses a butterfly to catch the rabbits. The fox then returns, but Sniffy becomes the hero of the day, and a permanent member of the team, when he rescues all the rabbits from the fox's clutches.