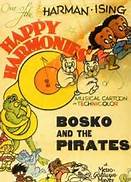 Little Ol' Bosko and the Pirates
is a 1937
Happy Harmonies
cartoon. Uhu and Opuh renamed and remaked "BOSKO: The Pirates Movie".
Bosko is told to go straight to "Gramma's" with a fresh batch of cookies. Straight to Gramma's Bosko goes, but his imagination gets distracted along the way.
Creation
Edit
Bosko met some of the characters like "Swing Wedding" and "The Old Mill Pond", which is why they also had the genre of music called jazz and they also had a fight with the Big Frog.
Censorship
Edit
The cartoon is rarely seen on television due to stereotyping, which is why many unofficial videos have such horrible video quality. Many are seen without copyright protection on YouTube, despite WBTV (WB Television) owning the rights to the copyright on YouTube.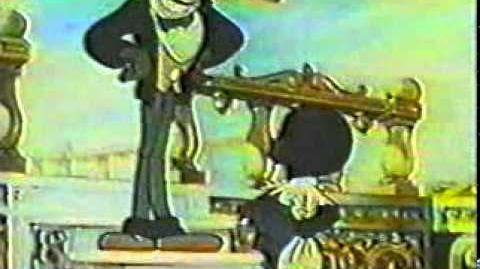 The video is sure if you don't know what they look like frogs.