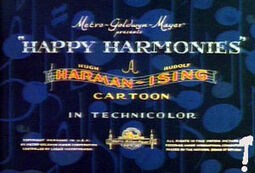 Happy Harmonies
is an old cartoon series created and produced by Hugh Harman and Rudolf Ising. It was distributed by
Metro-Goldwyn-Mayer
. The first episode of the series was "
The Discontented Canary
" in 1934 and the series finale episode was "
The Little Bantamweight
" in 1938.
Bosko's original design appeared for the final time in the epsiode "Hey-Hey Fever" then he gets a new design in the episode "Run Sheep, Run!".
Bosko appeared in early Looney Tunes cartoons before working for MGM.
The shorts ran over budget, so they stopped after 36 shorts. MGM fired Harman/Ising, but were hired back shortly after Friz Freleng left MGM to go back to Warner Bros.
The shorts are now under Turner Entertainment's library. When Turner bought MGM, he kept the pre-1986 library, including all the MGM cartoons from 1930-1967. These shorts had airings on Cartoon Network before original programming came in. By then Turner would use the 1995 dubbed prints of the cartoons, which were released on the Happy Harmonies LaserDisc series. These dubbed versions did not have altered ending cards like Looney Tunes nor did they have Turner's disclaimer. Some cartoons survive from bootleg recordings in the 1960s-80s and majority survive without copyright protection on YouTube, because WBTV, the owners to the films, possibly may have never saw these.