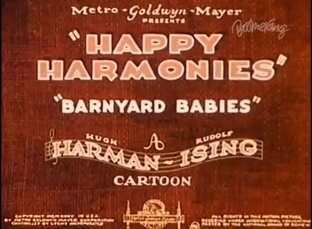 Barnyard Babies is an MGM Happy Harmonies cartoon.
The cartoon starts as there is a chicken-like contest, and the viewers then see a mother duck and her babies and then they see pigs eating spaghetti and meatballs and the viewers then see a cow and a horse and then see an animal putting up a poster saying "Better Babies Contest: Tomorrow in the Big Red Barn". Then a chicken goes and sees a calendar saying "Our Blessed Event" on the 26th of an unknown month. Later on, a little somewhat party is going on in the barn and performances are then shown. Later on, the chickens begin to wait on something. The time goes by fast and the chicken still waits. Then the mother then has babies hatching. The party is still going on at the barn then the chickens come with their babies. But the babies accidentally fall and then land in a trophy and land safely, leading into the end of the cartoon.
This is the last cartoon to show MGM's "Coffee The Lion". See Metro-Goldwyn-Mayer.
Final cartoon in 2-hue Technicolor.